by Chenell
|
Last Updated:
March 10, 2020
Adding/Updating Page Admins on Facebook
In the age of an ever-growing requirement for your business to have a social media presence, you will likely be giving access to someone on your team to post on your page and create ads for you.
With Facebook, it's really easy to add and remove people from being an admin (or other roles) on your page. Here are the steps to follow to update your current page roles:
1. Navigate to Facebook.com and click the drop-down arrow in the upper right-hand corner.
This will show you a list of your Facebook page(s). You may need to click "See More…" if you manage multiple pages.
You can also navigate to business.facebook.com and your page should show up there.
2. Select the Facebook page you want to add or remove someone from accessing.
This step will take you into the business manager of your account.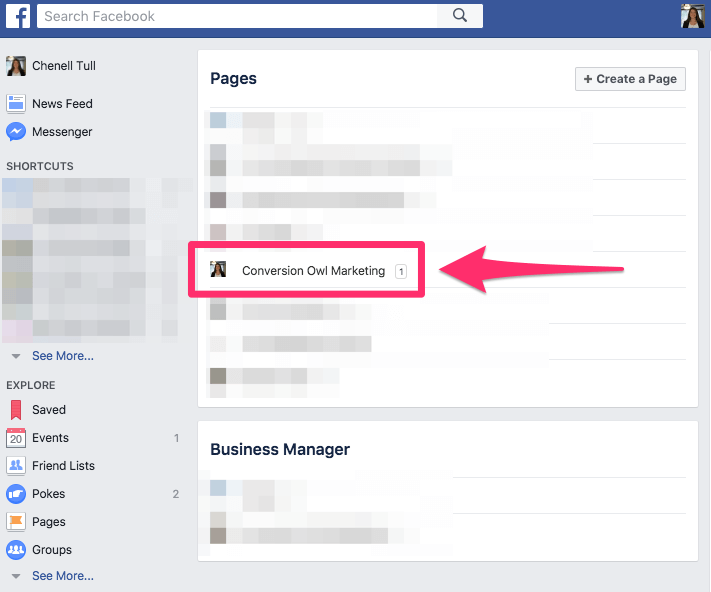 3. Click "Settings" in the top right-hand corner of the page.
4. Click on the "Page Roles" optin in the left-hand navigation menu.
This will take you to the page seen below.
5. Type the name of the person you want to give page access to. 
It helps if you are already Friends on Facebook with them as those names appear more easily in the search.
6. Select the role you'd like this person to have and click "Add."
Here Are Some Brief Descriptions of the Page Roles You Can Assign:
Facebook Page Admin
This person will be able to manage all parts of your page, and create ads for you. Choose this option (or the Editor option) if you are giving an advertiser access.
While there is the "advertiser" option, selecting that option means the person won't be able to create and delete posts on the page organically, which does limit some options for them when implementing your marketing strategy. I would only give them this option if you trust them – but if you don't trust them, why did you hire them? 🙂
Facebook Page Editor
This is the same as the Admin role, without the ability to add/remove people and change settings for the page.
Facebook Page Moderator
This person cannot go live, edit your page, or create organic posts. But they can create ads (although not new ads, they'll only be able to boost existing posts).
Facebook Page Advertiser
Such a misleading title in my opinion. Yes, they can create ads, but they can't use your organic posts to create ads and they won't be able to publish any organic posts for you if that's what you wanted them to do.
Facebook Page Analyst
An extremely basic role, but great for people who are simply reporting out on your page's performance.
Facebook Live Contributor
This person will only be able to go live from their phone as your page. They will be unable to post anything else for you.
Here is a chart Facebook created to give you a snapshot view of what each role can do:
Updating Facebook page roles is a pretty easy task once you get the hang of what each one means. For most people this is a one-off task, but for larger teams it may need to be updated more often.
How Can I Give Someone Who Doesn't Have a Facebook Profile Access to Your Page?
In short, you can't.
Facebook requires each business/page manager to have a valid personal profile. This helps reduce the number of spam accounts as well as making it slightly easier to add someone to your account.
This also means that you can't really deactivate your Facebook page if you're managing a page or ad account – no social media hiatus for us marketers!